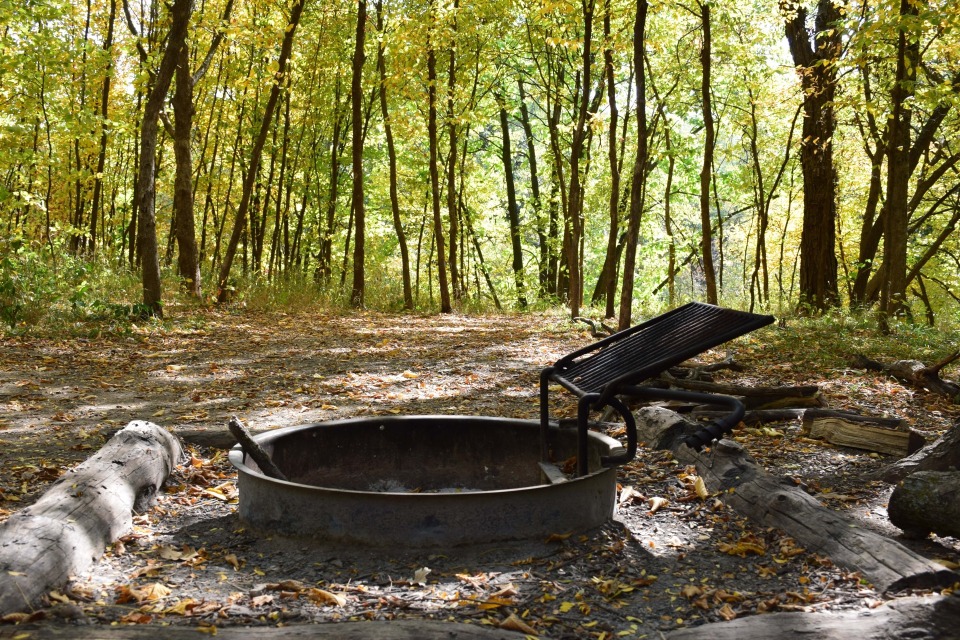 Hitchcock Backcountry Campsite #7 Heritage
Hitchcock Nature Center
27792 Ski Hill Loop
Honey Creek, Iowa 51542
712-545-3283
Check-in: 4:00pm
Check-out: 2:00pm
Starting at $10.00
Add up to 3 tent/hammocks for $10.00/night
Reserve Now
For those seeking an adventure and a truly unique camping experience, Hitchcock also offers seven primitive backcountry campsites located deep within the park. We ask that backcountry campers camp with integrity & enjoy the outdoors responsibly by employing Leave No Trace ethics and principles.
About Backcountry Campsite #7 - Heritage:
Three-hammock campsite with central anchor hammock post and fire ring; a single tent is welcome but there is no camping pad available at this location
Moderate terrain hike, located approximately 0.65 miles from the main parking lot at the Loess Hills Lodge
Loess Hills woodlands setting
Adjacent to the main trail
About Backcountry Camping:
Backcountry campsites are primitive and do not include access to modern amenities including drinking water or restrooms.
Campers are responsible for physically carrying in and carrying out their own supplies including drinking water.
Campers are responsible for the disposal of all human waste. Please bury human waste away from the established campsite and no less than 200 yards from water.
ALL TRASH MUST BE CARRIED OUT WHEN YOU VACATE THE CAMPSITE. Thank you!
Amenities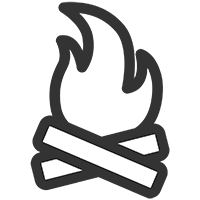 Fire Ring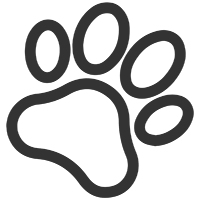 Pets Allowed
Location Details
Backcountry Campsite #7 - Heritage is located north of the Loess Hills Lodge off of Heritage Trail where it meets with Legacy Loop. This site is located in easy to moderate level terrain approximately 1 mile from the main parking lot at the Loess Hills Lodge using the Fox Run Ridge Trail Head & traveling by way of The Chute & Heritage trails.
Restrictions
Keg beer is not permitted
Wheeled vehicles are not permitted, this includes wheeled coolers, bicycles, wagons, & wheeled luggage
Please, only place tents on designated tent pads
Hammocks are only allowed to be hung at the designated hammock campsites (Backcountry Campsite #6, Shea Way and Backcountry Campsite #7, Heritage)
Campers are permitted to harvest dead fall wood from the ground for burning but may not cut down or damage live trees
Please help us limit the spread of pests and do not transport firewood across state or county lines.
Cancellation Policy
Date Changes
All date changes must be made by calling the Park Office at 712-328-5833. Recognize that we must first administratively cancel your existing online reservation, and then create a second reservation for the new date. An Administrative Fee of $25 will be assessed to complete this transaction. Please consider this procedure prior to making your initial reservation.
Please note that date changes will not be allowed within two weeks of the scheduled reservation.
Cancellation Refunds
Please note that processing fees are non-refundable. ALL cancellations or requests for refunds cannot be done online and must be made by calling the Park Office at 712-328-5833.
Cancellation refunds will be paid based on the following schedule:
30 days or more notice.....................................100% refund
29-15 days notice............................................50% refund
14 days or less notice......................................No refund
Pottawattamie Conservation observes a NON-REFUNDABLE reservation policy for cancellations that occur within 14 days of the rental date with the following exceptions:
Accident, serious injury, or death of an immediate family member
Travel conditions where a substantial risk is required in order to travel such as a winter storm where a travel advisory has been issued
We are unable to provide your facility (or like facility) in operable condition for the date of your event
Fees
Backcountry camping is $10.00 per tent/hammock per night.
A 4% nonrefundable processing fee applied to credit card reservations
All campsites must be reserved online; walk-up reservations are no longer available at the park
All camping is first reserved, first served
Maximum stay is 14 days
Campsites are considered occupied when an online reservation has been submitted and the camping fee paid
Paid camping registration includes admission to the park for one vehicle.
All vehicle information including descriptions and license plate information will need to be entered during the checkout process to avoid a ticket or being towed. This includes vehicle information for additional guests who arrive separately and stay overnight.
Additional guests will need to purchase a $5.00 per vehicle daily entrance pass at the front gate or have a valid Pottawattamie County Parks annual permit
Keg beer is not permitted