Mt. Crescent Ski Area
17026 Snowhill Ln
Honey Creek, Iowa 51542
712-545-9135
Directions:
From Interstate I-29 take the Crescent exit and travel east to The Old Lincoln Highway. Mt. Crescent is located about 3 miles north of Crescent off of Old Lincoln Highway.
Park Admission:
Mt. Crescent is not yet accessible for public recreation outside of the winter ski/snowboard season.
Park Map
Become a Member
Join the Pottawattamie County Foundation for as little as $20.00 to gain a year of access to Pottawattamie County parks.
Join Today
On December 30th, 2021, Pottawattamie County purchased Mt. Crescent Ski Area in Honey Creek, IA with support from the Iowa West Foundation, an advocate of sustainable regional development. Mount Crescent sits directly south of Pottawattamie County park Hitchcock Nature Center and is nestled in the globally significant Loess Hills. The acquisition is part of Pottawattamie County's plan to create one of the largest nature areas in the state in an effort to increase access to high-quality public land and recreation in Iowa.
Thank you to the residents who shared their feedback about Mt. Crescent Ski Area's acquisition. More details will be released in the coming months about future plans at the ski hill.
Park Features
Skiing & Snowboarding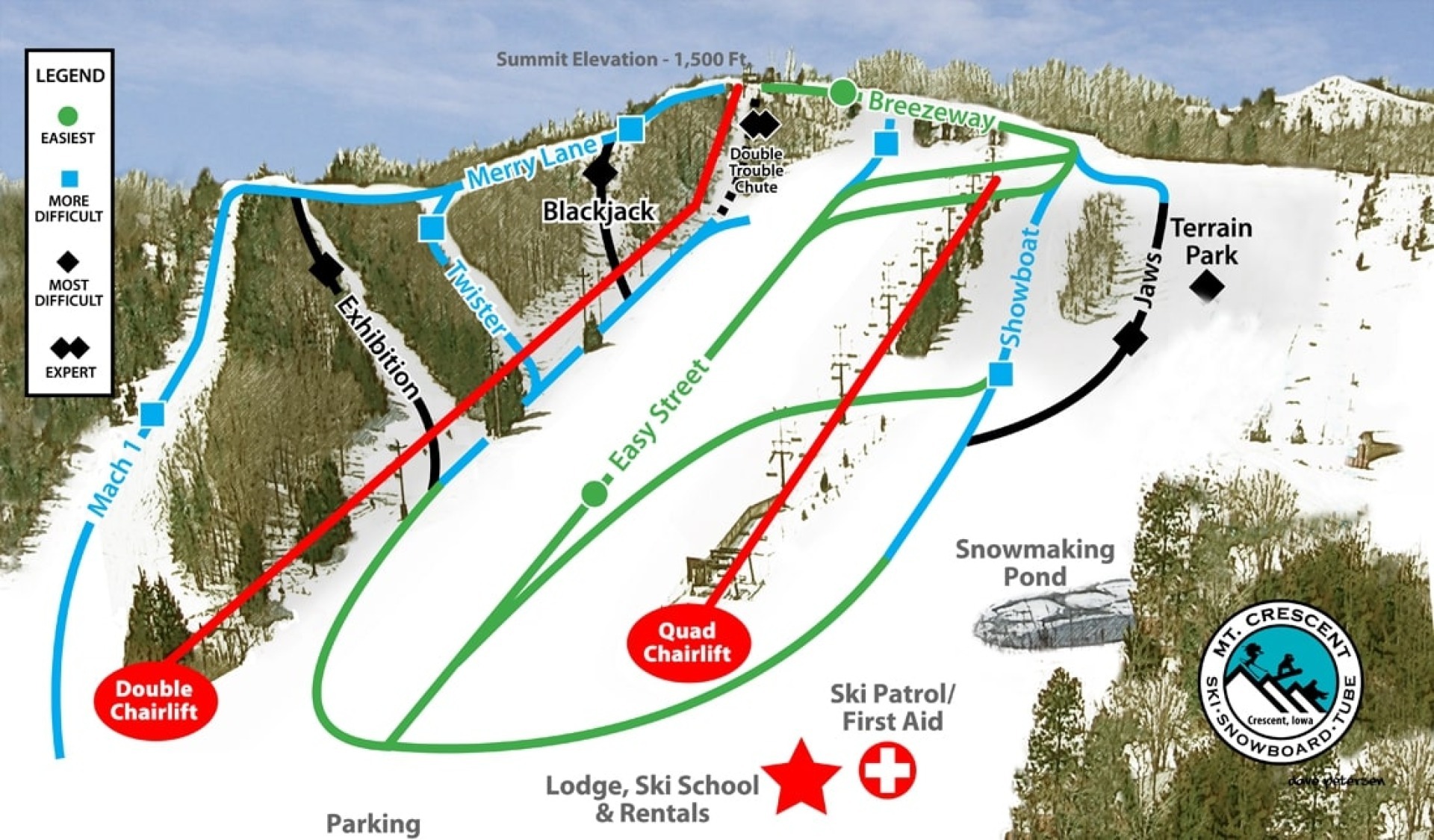 Mt. Crescent offers weeknight and weekend skiing and snowboarding on 10 trails ranging from easy to expert.
Skis and snowboards are available for rental online or in person. Online rental reservations are highly encouraged to secure your equipment, especially for special events such as Midnight Madness.
Hours of operation and the season schedule will be available in December 2023.
The ski and snowboard season generally runs from December through March with opening and closing dates being weather-dependent.
A special 25% lift ticket discount is offered to Pottwattamie County residents only.
All participants must sign and turn in an Activity & Participation waiver before taking part in activity at Mt. Crescent.
Please visit www.skicrescent.com for more details.
Sledding
Special Events
Lessons
Park Staff